If you already know you want to come to the Polyglot Gathering 2023 (good choice!), then let us help you with some practical decisions:
Where will the Polyglot Gathering take place?
The Polyglot Gathering 2023 will take place at the hotel Kuźnia Napoleońska ("The Napoleonic Forge"), located in Teresin, Poland, a small town 40 km west of the center of Warsaw (more on how to get there below).
Buy your Gathering ticket
Reserve your place at the Polyglot Gathering 2023 right away to get the best price here.
When should I arrive / leave?
1. The Polyglot Gathering dates
The event itself takes five days, from Wednesday 14 June (starting at about 6 pm) to Sunday 18 June (ending late the evening). You can, of course, only buy a ticket for a part of the event or for just one day, depending on your time possibilities. We recommend attending the whole event (until breakfast on Monday, June 19) as this will give you plenty of time to make friends and learn a lot of new things.
Wednesday, June 14
Thursday, June 15
Friday, June 16
Saturday, June 17
Sunday, June 18
Monday, June 19
早餐
早餐
早餐
早餐
早餐
分享会与工作坊
分享会与工作坊
分享会与工作坊
分享会与工作坊
回程出发
午餐
午餐
午餐
午餐
注册,做游戏
分享会与工作坊
分享会与工作坊
分享会与工作坊
分享会与工作坊
晚餐
晚餐
晚餐
晚餐
晚餐
晚间安排
晚间安排
晚间安排
晚间安排
告别晚会
2. Social activities before and after the event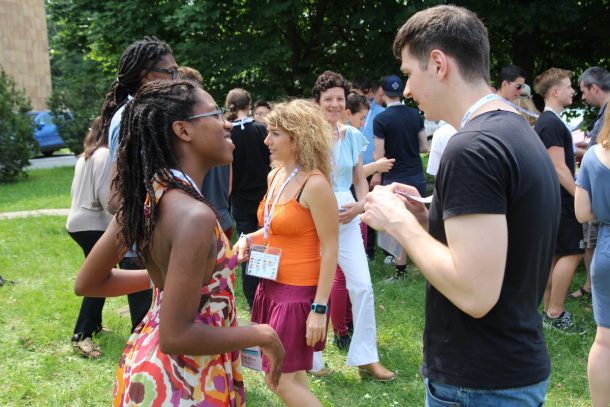 During the days before and after Polyglot Gathering you will be able to practice languages at Warsaw Tandem meetings. It will be in the center of Warsaw at "Pardon To Tu" (Aleja Armii Ludowej 14 near Metro Politechnika) from 19:00 to 23:00.
3. A little trip around Poland?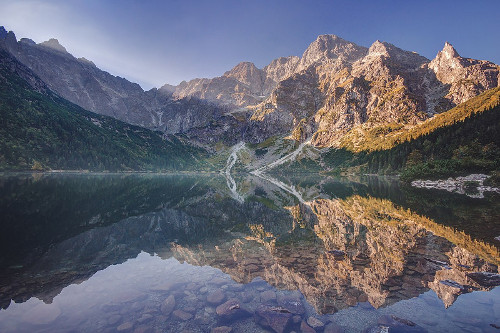 The Warsaw area is only a small part of Poland. What about getting to know the beaches of Northern Poland, the lakes and forests of Eastern Poland, the historical sites of Kraków, exploring the huge Malbork castle or hiking in the Tatra mountains?
Poland has a lot to offer. See if you can find some travel buddies among the participants in the Telegram group!
How do I get to Teresin?
First, get to Warsaw. Teresin is about 50 km west of Warsaw. There is a direct local train from many stations within Warsaw to Teresin Niepokalanów, going once every hour, for a one-way ticket cost of around 3 EUR. Tickets can be bought at machines on the stations, they also accept credit cards. The trip takes 38 minutes from Warszawa Zachodnia and around an hour from Chopin airport (with a change in Warszawa Zachodnia).
Get to Warsaw by train
Warsaw has three main train stations: Warszawa Wschodnia, Centralna, Zachodnia (East, Central, West). Usually, all long distance trains pass all three of them, and you should ideally go to Warszawa Zachodnia. From there, take the local train to Teresin Niepokalanów. There are direct trains to Warsaw from e.g. Berlin, Prague, Vienna, Bratislava, and Budapest. More info about the connections and tickets can be found at intercity.pl, bahn.de, cd.cz/eshop, tickets.oebb.at, slovakrail.sk or mavcsoport.hu.
Get to Warsaw by bus
There are 2 main long-distance bus stations in Warsaw: at Zachodnia train station (Zachodni) and at Młociny metro station. Ideally, go to Zachodni, from there you have the direct local train to Teresin. If you get to Młociny, take the metro to Centrum station and from there walk to Śródmieście train station where the local train to Teresin stops.
Get to Warsaw by airplane
Warsaw has 2 airports: Chopin/Okęcie (WAW, closer to the city), and Modlin (WMI, further from the city and mostly served by Ryanair).
From Chopin airport to Teresin
Take a local train to Zachodnia station, and then the local train to Teresin.
From Modlin airport to Teresin
Take a shuttle bus to Modlin station, then a local train to Zachodnia station, and then the local train to Teresin. There is also a direct bus from the Modlin airport to the center of Warsaw – Palace of Culture and Science – at the Śródmieście station and then a local train from this station to Teresin.
Where will I stay?
This year, accommodation will be provided directly in the venue of the Polyglot Gathering. Because the capacity is limited, we have reserved rooms in other accommodations as well. See the page How to participate for more information about the costs of accommodation.
If you do not want to book a room in one of the hotels we offer, you can of course find your own accommodation. It is also possible to commute from Warsaw.
Kuźnia Napoleońska***
Kuźnia Napoleońska ("The Napoleonic Forge") is the hotel where the program of the Polyglot Gathering 2023 will take place.
Are you a blacksmith? No? Well, worry not as this is not a real forge, although lacking in crude metal, it will however provide you with the option of sleeping directly at the PG 2023 venue which is partially located in a historical building, the rooms offer a unique combination of classic decorations with traditional elements. Don't worry about the time, wake up when you want. Double and triple rooms with bathrooms, breakfast buffet, flat-screen TVs, towels and the possibility to use a small pool as well as a jacuzzi for free, moreover you can enjoy a sauna which comes at an additional cost however. A parking lot that will provide you with an ideal slot for your car. Accommodation at the hotel during PG 2023 comes with full-board option only (lunch and dinner).
Distance to the venue: 0 km.
Check-in: 14:00, check-out: 12:00, check-in on Tuesday: 12:00.
Dom Pielgrzyma Niepokalanów

(Niepokalanów pilgrim's house)

As the name suggests, it is a religious accommodation operated by the Catholic Franciscan order. It is located halfway between the train station and the venue, Kuźnia Napoleońska.

The accommodation is an ideal place for anyone seeking a peaceful and serene atmosphere. Guests of all backgrounds are welcome, but it is important to note that this is a Catholic establishment, and visitors are expected to respect its religious nature. The pilgrim's house has strict rules against any indecent, obscene or threatening behavior. Smoking, drinking alcohol and taking drugs are also strictly prohibited.

Guests are accommodated in twin rooms with washbasins, which are housed in one of two pilgrim's houses located close to each other. Shared bathrooms are available on each floor, and towels are provided for all guests. While the house does not provide meals, guests have access to a refrigerator to store their own food. A grocery store is located right next door, and a supermarket is only a 6-minute walk away.

The pilgrim's houses are situated next to the church, which means that guests can expect an early wake-up call in the form of church bells. This simple and cozy accommodation is perfect for those looking for a low-cost lifestyle with a hospitable and peaceful atmosphere. Guests with cars can take advantage of the free unguarded parking available on site.

The Niepokalanów Pilgrim's House is located 1 km from the venue, which is a 2-minute car ride or a 12-minute walk away.
Dormitory
This dormitory-style accommodation is a room at the venue hotel where participants sleep on the floor in their own sleeping bags. The price includes the use of nearby showers, access to a swimming pool, and a complimentary breakfast in the hotel. This type of accommodation is ideal for event attendees who are looking for a more affordable lodging option, and who are comfortable sharing common spaces with other participants.
Don't forget to pack your own sleeping bag and a sleeping mat!
Hotel Chopin Business and Spa****
Hotel Chopin is located in Sochaczew, a medium-sized town 12 km West from Teresin.
Are you looking for a hotel that's not only luxurious but also well situated? Read on to find out whether this one is for you. Ideal for people who want luxury in a four star hotel and for those looking for a single room. You will find shops, restaurants, bars and stunning parks in close proximity of the hotel and let's not forget the ruins of the Castle of the Dukes of Mazovia right across the road from the hotel. The registration form provides you with the choice of "Single" and "Single economy": the latter are smaller and without air conditioning. The hotel comes prepared offering a parking lot, breakfast buffet, towels and an elevator.
Distance to the venue: 13.7 km, 15 minutes by car, 11 minutes by train from Sochaczew to Teresin-Niepokalanów. Free shuttle buses will be provided for participants every morning and every night.
Check-in: 14:00, check-out: 11:00.
What will I eat?
Lunches and dinner will be provided in the main venue, hotel Kuźnia Napoleońska (even for participants who are staying somewhere else). Meals will be served as buffets with vegetarian and vegan options. If you have allergies, write it in the registration form and we will do our best to provide you with appropriate food.
Meals are a great way to socialize with other polyglots, but of course you do not have to order meals there: you can go out and eat at places of your choice. There are a few restaurants, cafés and snack stands in the town. There is a small store next to the venue and a supermarket next to the train station.
If you are staying at one of the hotels we offer, breakfast is included there.
What will I do for five days?
Oh don't you worry about that! 🙂 You'll have:
Interesting lectures to attend
A board game zone to play in
A no-English zone to relax in (

ohne Englisch zu benutzen

,

porque queremos disfrutar de otros idiomas

,

pour ne pas toujours utiliser que l'anglais

,

потому что это же Встреча полиглотов

,

i przecież rozmowa w innych językach jest taka ciekawa

!

Práve preto sme vymysleli takúto špeciálnu zónu

,

a všem se to loni moc líbilo

.

Eble la tuta evento devus esti sen la angla…

)
A bookcrossing zone to get rid of your old books and get some new ones for free
A coffeebreak zone to enjoy a free coffee in between lectures
A fun evening program with polyglot games, multilingual concerts, multicultural cuisine
Hundreds of interesting people to meet!